About MWC Barcelona
MWC Barcelona (formerly Mobile World Congress) is the largest mobile event in the world, bringing together the latest innovations and leading-edge technology from more than 2,400 leading companies, with a highly-rated conference programme assembling today's visionaries to explore the hottest topics influencing the industry.
The event also features extensive learning opportunities from dozens of partner-led programmes, GSMA seminars, summits and more. Everything you need to know about the industry, today and beyond, can be found here.
With over 107,000 key decision-makers expected to attend, #MWC19 promises to expand your professional network and help you achieve your goals.
MWC19 Event Theme
The theme of this year's event is 'Intelligent Connectivity' – the term we use to describe the powerful combination of flexible, high-speed 5G networks, the Internet of Things (IoT), artificial intelligence (AI) and big data. Intelligent connectivity marks the beginning of a new era defined by highly contextualised and personalised experiences, delivered when and where you want them. This is the future of our industry and our world.
Within Intelligent Connectivity, we developed 8 core themes around which we will focus our content for this year's event:
This year, the 5G-CORAL project had the opportunity to showcase a demo in the InterDigital booth, Hall 7 booth 7C61.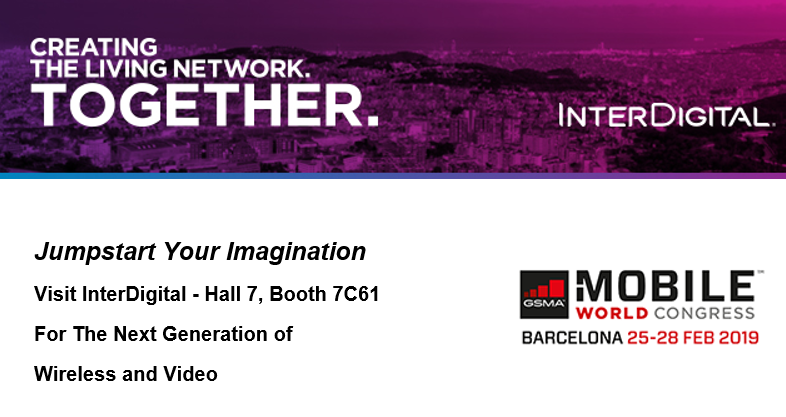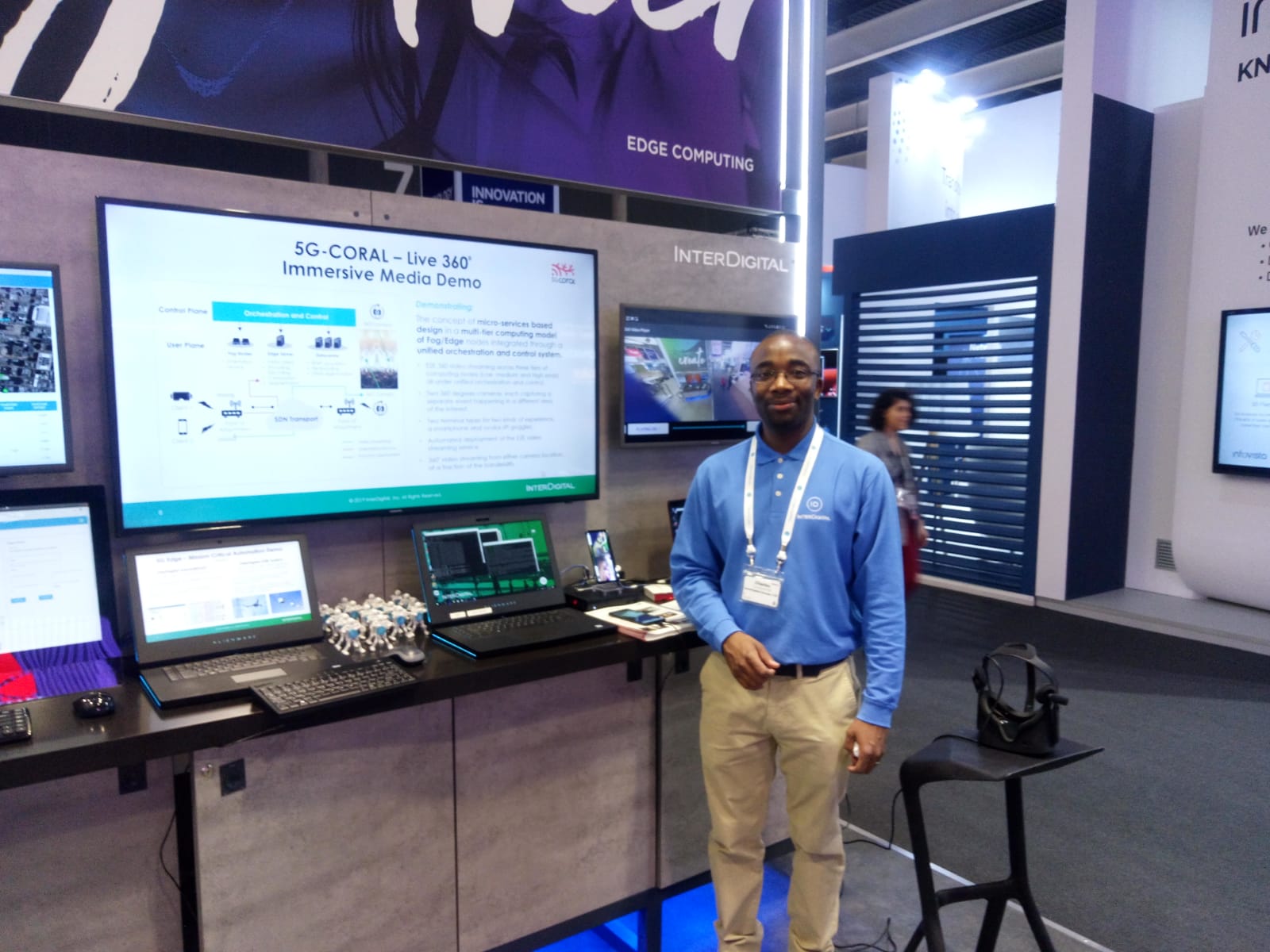 The name of the demo was "5G-CORAL: E2E 360° video streaming", and it will show E2E, 360-video streaming across three tiers of computing nodes (Low, medium and high ends) all under unified orchestration and control. Our demo comprises two 360 degrees cameras, each capturing a separate event in different areas of the booth, plus two terminals for two kinds of experience: one smartphone and one oculus rift (goggles). Our visitors will experience the automated deployment of the E2E video streaming and 360 video streaming from either camera location, at a fraction of the bandwidth.
The demo is available here or in the project's Youtube channel,  it can be seen by following this link.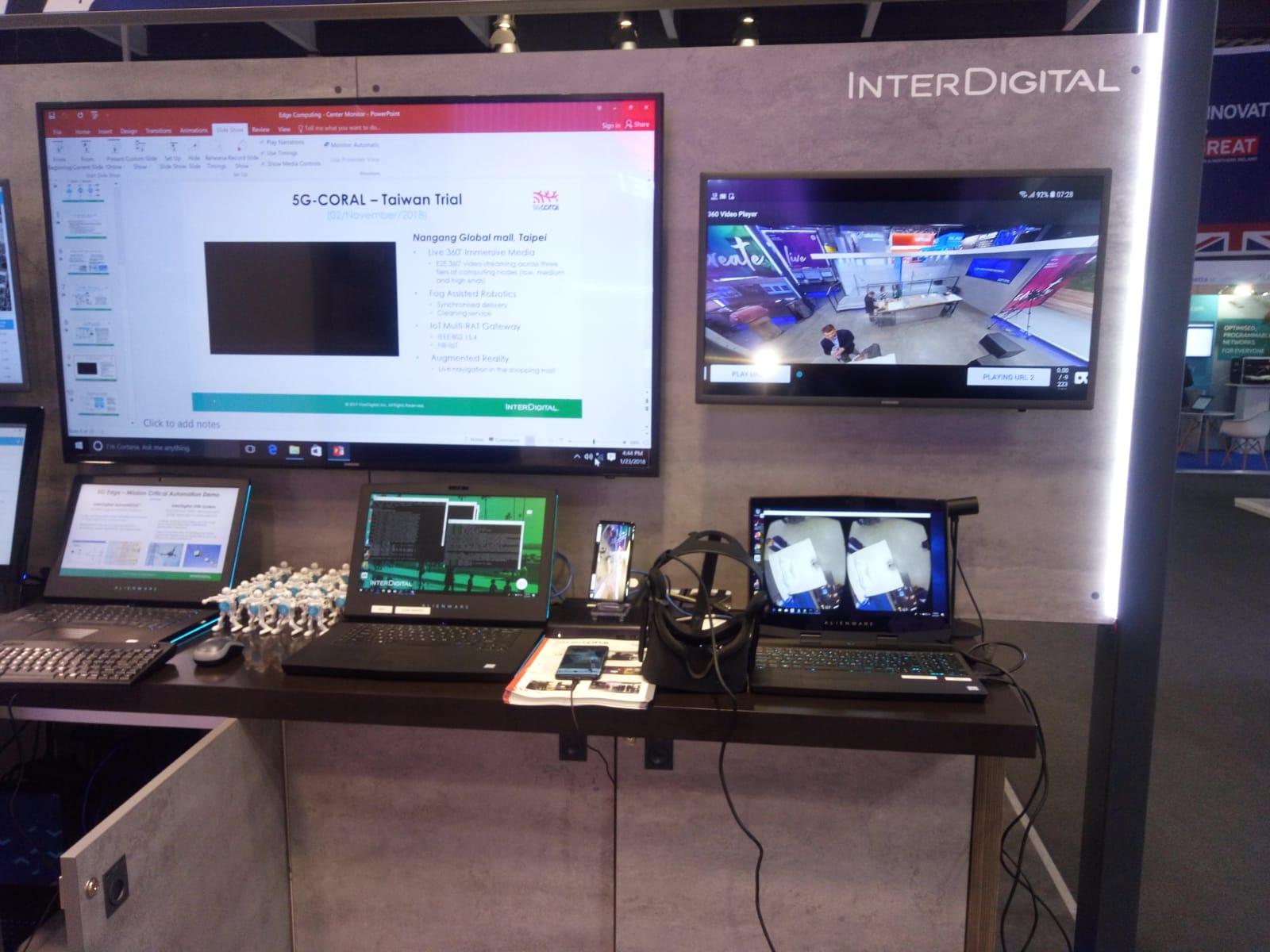 For further info follow these links: https://www.interdigital.com/post/mwc19-interdigital-booth-demonstrations#, 
https://www.interdigital.com/videos/mwc19-5g-coral—-virtual-reality-video-streaming
Other useful links: https://5g-ppp.eu/experience-the-future-of-5g-now/