Project Data
---
Summary
5G-CORAL project leverages on the pervasiveness of edge and fog computing in the Radio Access Network (RAN) to create a unique opportunity for access convergence. This is envisioned by the means of an integrated and virtualised networking and computing solution where virtualised functions, context-aware services, and user and third-party applications are blended together to offer enhanced connectivity and better quality of experience. The proposed solution contemplates two major building blocks, namely (i) the Edge and Fog computing System (EFS) subsuming all the edge and fog computing substrate offered as a shared hosting environment for virtualised functions, services, and applications; and (ii) the Orchestration and Control System (OCS) responsible for managing and controlling the EFS, including its interworking with other (non-EFS) domains.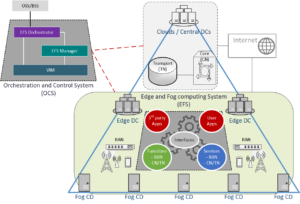 ---
Consortium
The 5G Coral consortium comprises 10 partners from Taiwan and Europe. The project is coordinated by Universidad Carlos III de Madrid  (UC3M) and has received funding from Horizon 2020 under Grant Agreement N0. 761586. Further information of the project Consortium can be found here.
To know more about the project objectives consult the dissemination material clicking here, and also you can check our Poster, Brochure or a general Presentation of the project.
---